New York Attorney Sues American Home Shield Over Misleading Email Advertisement
A New York man received an unsolicited email advertisement with the subject line "Roof Repair Made Easy." When he opened the email message, its body read:
Residential & Commercial Roofing
Get matched to local contractors. Receive price estimates on new roof installation, reroofing & repairs. Protect Your Home Today!
Roofers You Can Trust!
The email body also included two hyperlinks. One hyperlink used the text: "FIND A LOCAL ROOFER[.]" The other used the text: "GET MORE INFO[.]" Believing the email to an advertisement for roof-repair services, the man clicked on both of those two hyperlinks, expecting each time to be taken a website page that contained info about roofers and roof-repair services.
However, the man discovered that clicking on either link opened a website page--the same website page, in fact--that contained only info about American Home Shield's home-warranty services.
So, not only was the email unsolicited (the classic definition of "spam"), but it was also misleading.
How to sue over a spam email
Unfortunately for American Home Shield, this man is an attorney who litigates robocall, spam and misleading email cases for a living (he actually calls himself "the annoyance lawyer"). So, he knew exactly what to do next.
Retracing his steps in this case offers a step-by-step guide for suing spammers.
Step 1: Determine where the email was sent from.
You should already know the sent to location, since that would be wherever you are. So, usually, in the United States, you would only need to determine sent from state at this stage. The attorney determined that the email message had been sent from California.
Step 2: Determine the applicable statutes.
California has a so-called "Email Law" (or "California's Anti-Spam statute") codified at Cal. Bus. & Prof. Code § 17529.5. Specifically, § 17529.5(a)(3) makes it...
[...]unlawful for any person or entity to advertise in a commercial e-mail advertisement either sent from California or sent to a California electronic mail address [if, among other circumstances,] The e-mail advertisement has a subject line that a person knows would be likely to mislead a recipient, acting reasonably under the circumstances,  about a material fact regarding the contents or subject matter of the message.
Step 3: Determine the "payoff" of taking action.
By "payoff," I mean the upside of taking action against the party who violated the law--in this particular case, § 17529.5. This payoff calculation can potentially include a number of variables:
How much time (or money, if you're going to hire this part out to someone else) it would take you analyze your case, take inventory of your facts and evidence, and develop a legal position based on specific legal argumentation. Key here is how much that amount of time is worth, because, practically speaking, this factors into the cost side of the ROI equation.
How much time (or money) it would take to fulfill all of the conditions precedent required to sue and recover under whatever legal theory you've selected. For example, some causes of action require that you first send the opponent a demand letter before filing suit, and that you give the opponent sufficient detail in that letter to be able to understand what the basis for your forthcoming lawsuit would be, and a sufficient number of days to settle the matter or not.
How much time and money it would cost you to actually litigate: court costs, travel costs, opportunity costs, etc.
Finally, the total recovery you're entitled to seek, and what its components are.
Cal. Bus. & Prof. Code § 17529.5(a)(3) provides that...
A person or entity [...] may recover either or both of [his] Actual damages [or] Liquidated damages of one thousand dollars ($1,000) for each unsolicited commercial e-mail advertisement transmitted in violation of this section, up to one million dollars ($1,000,000) per incident.
Once you've done that basic ROI calculation described above, you then need to add another layer of variables to determine the venue you're actually going to file suit in (e.g. small claims court, with all of its limitations on recovery and representation, versus "big boy court," with all of its heightened formalities and procedures but fewer limitations on recovery).
Step 4: try to figure out who else might unlawfully received the same email.
At the very least, gathering evidence that the same thing happened to other people can help strengthen your case. But, as this attorney's lawsuit demonstrates, it's also a good way to tip the scales in your favor if you can devise a way to take some sort of collective action. 💡
Collective action could either be a class-action lawsuit, a coordinated campaign of small claims lawsuits, or merely a behind-the-scenes cooperation among similarly harmed plaintiffs (to share information and so forth).
This attorney chose to sue...
...on behalf of all persons and entities to which Defendant, American Home Shield, transmitted or caused to be transmitted, one or more unsolicited commercial electronic-mail advertisements[.]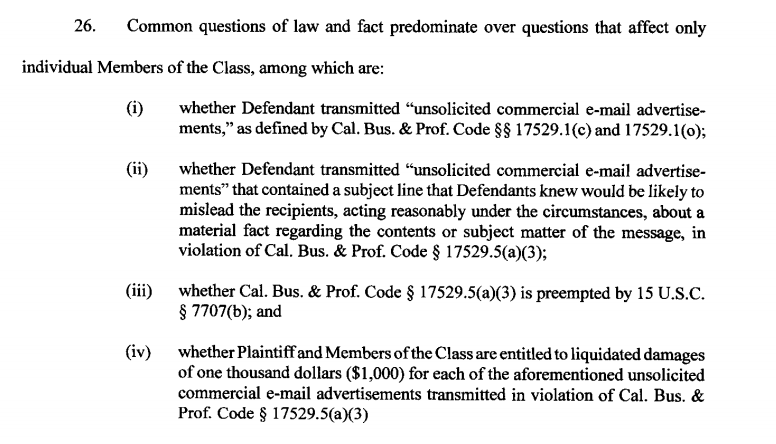 By doing so, he was able to seek a class recovery of more than $10 million instead of only an individual recovery of less than $10,000. That made the lawsuit much scarier for American Home Shield, which worked out for the benefit of the attorney.
Step 5: file the lawsuit.
After filing suit and then participating in the standard, pre-trial litigation procedures of back-and-forth motions and such, the attorney agreed to dismiss the lawsuit in exchange for American Home Shield agreeing to settle.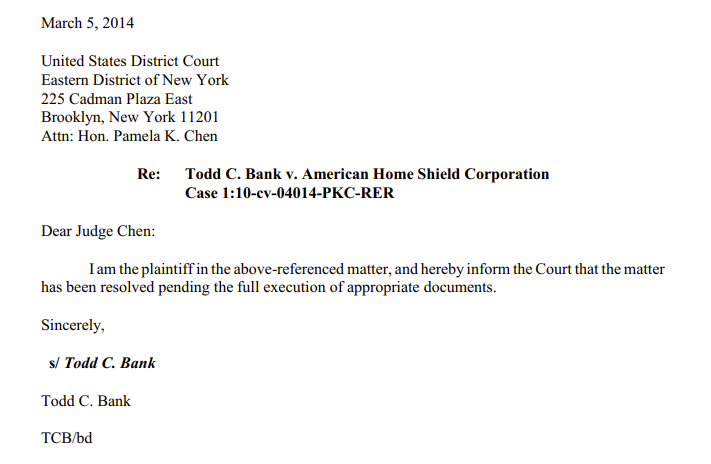 Although, I can't give details of a settlement that includes a confidentiality clause, it's reasonable to assume that the settlement featured a payoff for the attorney of at least five figures.
Takeaway: yes, you can sue a company for sending you spam email.
...and since spam's not going away anytime soon, you might want to bookmark this article. 🔖