California Court Orders Regus To Cease Debt Collection Attempts
The court's judgment even included a punitive award penalty payable to plaintiff in the event of Regus's non-compliance with the court's order.
Michelle* is a recruiter in San Francisco, California. In April 2020, she was in a month-to-month agreement with Regus for office service.
*Name changed for confidentiality.
On April 20, 2020, Michelle gave Regus notice of termination. According to the agreement's terms, that meant that Michelle was only obligated to pay through the end of May 2020.
However, Regus continued to levy new charges even after Michelle terminated the agreement and ceased using the Regus service.
When Michelle noticed a charge to her payment card by Regus on June 17, 2020, she asked her payment card issuer to cutoff Regus's authorization to place new charges on the card. Thereafter, Regus began threatening Michelle with debt collection and other attendant harms, while the allegedly outstanding bills continued to pile up.
Keep in mind that there was no legitimate dispute during this time as to whether Michelle had given Regus notice of termination and then ceased to use the Regus service. Rather, Regus's purported "justification" for the ongoing charges seemed to be that the written notice of termination Michelle had given to Regus sales director, Juan Jimenez, via email, somehow "didn't count." As Regus claimed, the emailed notice of termination by itself was not adequate, because Michelle was also required to sift through several screens on her "MyRegus portal" to eventually find and click a particular button intended to convey an intention to terminate; because Michelle had only sent the email notice, Regus claimed, Michelle's obligation under the month-to-month agreement continued even after May 2020.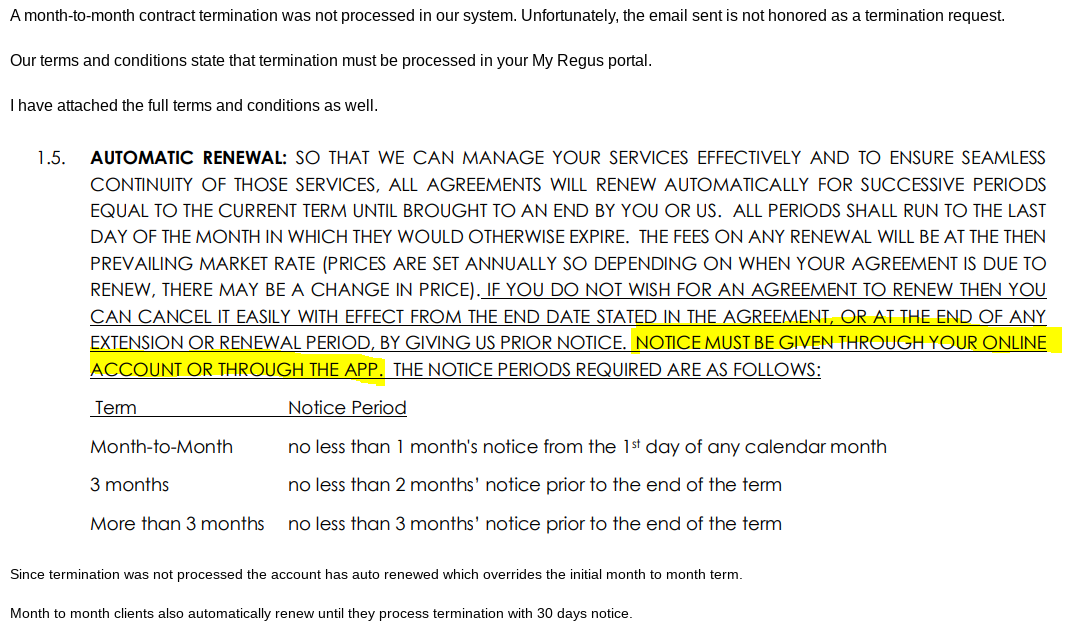 Eventually, Regus began various debt collection attempts, and Michelle decided to sue Regus to ask the court to weigh in on the matter. As the title of this article, suggests, it did not go well for Regus...